The Cellar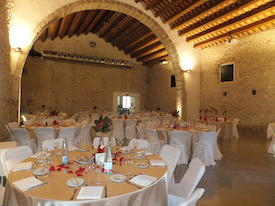 The Cellar is a majestic room of 288 m2 in which you can get in through two different entrances: the patio, through a beautiful stone stair with a roof of Catalan architectural design or taking the door placed at Sant Pere Street. This entrance is adapted for handicaped people.
The roof from the main room is secured by three stone half-point arches that arise from the floor and are covered by elaborated wooden beams. On the wall at Sant Pere Street, three loopholes from the 19th C. can be seen. These loophols were built during the Carline Wars. In the cellar, the holes for the way out of the wine from the ancient winepresses are also visibles.
The cellar and the "Cava Room" are connected through a beautiful stone arch. The "Cava Room" is 136 m2 and has a special lighting for exhibitions.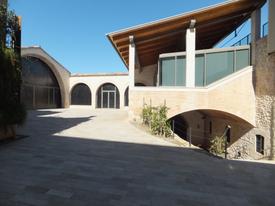 The Patio
The Patio is a 225 m2 open air area that is connected to the Fassina (the old distillery) with an spectacular stone porch. It also has a 54m2 stage for different usages.
The Patio has the main entrance through Hospital Street. This entrance is also adapted for handicaped people.
The multi-use Room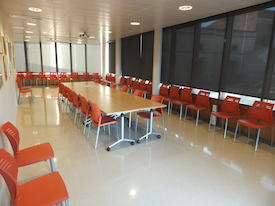 Modern and functional 66 m2 room with sunlight and equiped with tables, chairs, projector and screen for presentations, Wi-Fi connection, office with microwave, a 56 m2 terrace and bathrooms (adapted for handicaped people). This room is very versatile. Tables and chairs can be arranged differently according to the event or activity to carry out. Optional coffe-break service in the charge of the client.