The stamp provides the mark of sanitary security approved internationally by the WTTC
The Tourist Office of the Sant Sadurní City Council has been recognized as a safe service for tourism activity with the international certification 'Safe Travels', a distinctive awarded by The World Travel & Tourism Council (WTTC) and Tourism of Barcelona that allow travellers to recognise governments and companies around the world which have adopted the SafeTravels health and hygiene global standardised protocols against COVID-19.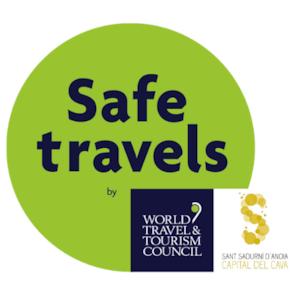 This distinction has been achieved due to the work carried out and the commitment made by the municipal Tourism Service to comply with the safety and prevention protocols to deal with COVID-19. The stamp becomes a guarantee of safety for all visitors to the Office and also for the workers.
The Safe Travels stamp is added to the Biosphere certificate that the Tourist Office has also obtained for the fourth consecutive year for its willingness to work towards a more respectful tourism with the city, the visitor and the Environment.
The Barcelona Provincial Council and the Barcelona Chamber of Commerce promote the distinctive "Commitment to Biosphere sustainability". A recognition that aims to promote good practices in sustainable management of tourism companies and services. The territorial deployment and implementation of the program is articulated with the regional tourism management entities, which in the case of the Alt Penedès corresponds to the Consorci de Promoció Turística del Penedès.