The town of Sant Sadurní d'Anoia is located in the Alt Penedés region of Catalonia, Spain. It can be easily distinguished by the extensive surrounding territory covered in vineyards, due to the fact that this county is the birthplace of a sparkling wine called cava, and by the captivating landscapes layered with centuries of heritage. The town is situated inland, between Barcelona and Tarragona, but it is still close by the enchanting coast of the Mediterranean Sea. Sant Sadurní is a place of interest recommended for all those who travel through Catalonia and are interested in learning more about the history and culture of this North-Eastern Spanish province.

Lose yourself one fine day in Sant Sadurní and its surroundings and contemplate the vineyards, the people busy, the tractors full of grapes during the harvest. Find out the secret of a centenary tradition: More than eighty local cava elaborators open the door of their cellars to guide you through an illuminated and silent route in the shade.

Our city's areas of interest start at Raval street, with its old defence tower (1873) at one end, and the Church square, with its gothic steeple, at the other. The gothic bell tower of the church was renovated between 1924 and 1926, and so was the chapel of the Old Hospital, both stand out in the historical area as architectural pieces of art.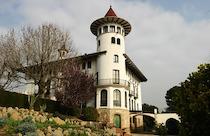 Noted examples of Catalan Art Noveau style are the Codorníu Cellars (1906), classified as the National Historic and Artistic Monument, and the Freixenet Cellars (1927), which attract attention for the colourful glazed ceramics found in the wave shaped cornice. In the town centre, examples of Art Noveau often include a mixture of other styles and resemble what is known as Eclecticism.

This architectural mixture can be seen in the former homes of Lluís Mestres (1909), Cal Rigol (1903), Cal Calixtus (1885), the Agricultural Athenaeum (1908-1909), the Town Hall (1896-1900) and the Santacana Roig Storehouse (1905). All of these buildings shape the historical city centre that has been recently remodelled into a pedestrian precinct and commercial area in order to preserve the town's heritage.

On the outskirts of the town, the Romanesque church of Sant Benet d'Espiells, dating from the 10th-11th century, is also a good example of the architectural richness of Sant Sadurní.