Public area located just below the Can Ferrer castle, next to the Vilarnau neighborhood, with capacity for approximately a dozen recreational vehicles. It has a source of drinking water and a point for emptying gray and black water, picnic tables and litter bins.
The area is open 365 days a year in a quiet space and only at 450m from the urban area with restaurants, shops and other tourist attractions. In addition, it also allows you to enjoy nature, walking or pedaling along the path of the cellars route towards the lake of Raventós i Blanc, which starts right next to it.ServicesPicnic zone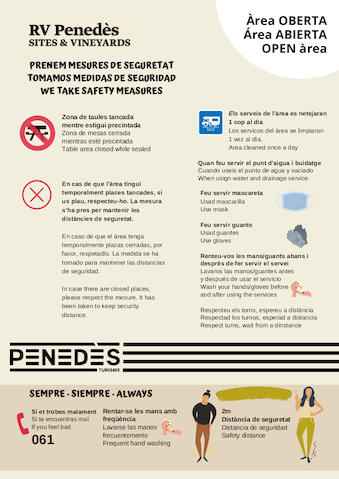 Wooded area
Drinking water load
Emptying gray water
Emptying of sewage
Rules of use:
Parking limit: 48 hours maximum
Exclusively for motor homes and campervans
The area does not have surveillance or security service. The administration will not be held accountable for any incident, burglary or similar in the parked vehicles.
Respect the neighbors' rest
No car parking
Use recycling bins
It is prohibited to camp, take chairs out of the vehicle or set up awnings or other objects
No campfires permitted
The City Council may dispose promptly of areas destined for the RV for other uses without this involving any type of compensation for users.
This is an initiative promoted by the Penedès Tourism Promotion Consortium, with the support of the Sant Sadurní City Council and the Barcelona Provincial Council for the creation of the RV Penedès · Sites & Vineyards network for recreational vehicles in the wine area of Penedès.
There are 12 park sites around the area, that offer motorhome and camper lovers a new way to discover and enjoy this land where the vineyards, the wine and the Mediterranean have shape its character.
Location:
Calle de las Flores, 08770 Sant Sadurní d'Anoia - 41 ° 26'02.8 "N 1 ° 47'05.5" E