Sant SadurnÝ Tourism Office gets the Biosphere certification of tourism sustainability
The Tourist Office of Sant Sadurní has been awarded with the Biosphere Sustainable Lifestyle certification. This distinction has been achieved thanks to the work done and the commitment for sustainability and responsible tourism with the city, visitors and the environment.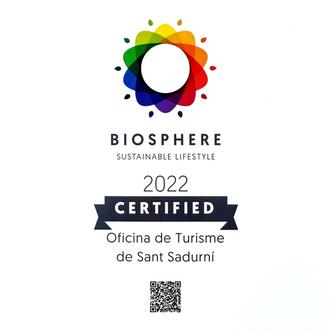 The Barcelona Provincial Council and the Barcelona Chamber of Commerce promote the distinction of "Biosphere commitment to sustainable tourism". A recognition that aims to promote good practices in the sustainable management of companies and tourist services.
The "Biosphere commitment to sustainable tourism" aims to extend the culture of tourism sustainability to companies, tourist services and destinations. It is a program whose main objective is to implement a more sustainable management in all the agents of a tourist destination. The deployment and territorial implementation of the programme is articulated with the regional tourism management entities, which in the case of the Alt Penedes corresponds to the Consorci de Promoció Turística del Penedès.
This year, despite being a year of great complexity and exceptionality in the tourism sector, the Penedès establishments and entities, including the Sant Sadurní Tourist Office, have continued to work hard to implement the different manuals and ensure compliance with the methodology for the quality and sustainability of their tourist services. This is the best sign of engagement for public and private destination agents.
The Tourist Office also has the Safe Travel distinction, which recognizes safe travel protocols around the world. This badge allows travelers to recognize any destination in the world that has adopted standardized protocols for security and prevention measures against covid-19.
If you want to know more about the Biosphere Commitment visit www.biospheretourism.com.